Long before they became the most successful duo in Orange Coast College beach volleyball history, freshmen Alanna's Shields and Sophie Sola met for the first time at Volleyball Club H in Huntington Beach more than 10 years ago.
This is where a 10-year-old Sola made a unique first impression on 11-year-old Shields, to say the least.
"I remember the first day of training for our club, I walked up to Alanna and said, 'You look like the daughter of [the Disney movie] 'Lock"" Sola said. "I just remember watching [her] and saying that, we became friends after saying something weird.
Shields, perhaps with no Disney character look-alike to compare Sola to, remembers loving his new friend's volleyball skills from a young age.
"[Sophie] had a very strong presence on the pitch," Shields said. "I just remember being drawn to her that way because I wanted to get good at volleyball. We also clicked on the Bat personality right off the bat – the two goofy ones.
The two instantly became best friends, hanging out every day as kids. Their relationship even flourished through high school stipulations, where Shields (Class of 2019) and Sola (Class of 2020) played together at Huntington Beach High.
Immediately after graduating, Shields went to Long Beach City College to play indoor volleyball. Sola did not make a commitment upon release of HBHS.
In 24 games played across the 2019-2020 seasonShields finished fourth on the team in points and tied for third in service aces with 20. Shields then left the Vikings after that season, citing unsatisfactory time at the LBCC.
"I just didn't have a good experience," Shields said. "I left and then came to OCC because I had heard good things about the beach volleyball program and wanted to be somewhere I could transfer from."
Shields made an immediate impact with the Pirates, going 7-1 in an abbreviated beach volleyball season in 2021 – his only loss in the Orange Empire Conference Pairs Tournament Finals to his teammates Summer Hanks/Thea Snider.
After the 2021 season, Shields campaigned to sign his old friend. It was a week-long process, but after some convincing, Sola agreed to work with the team in the offseason.
"I was supposed to do the offseason with her and the team," Sola said. "So [OCC head coach] Mandrel [Cutenese] asked me if I could play on the team, and I was like, 'Okay, okay. I will play.'"
Sola's main focus was school, but she was able to fit into beach volleyball full-time when she changed majors to OCC. Even with an open schedule, Sola still had his terms and conditions for a return to competition.
"[Alanna and I] play together or I won't play in the team. That was the deal," Sola said. "I didn't necessarily find that there would be a point [otherwise] because the reason I play was because of my best friend.
The two soulmates got their wish and made their regular season debut as Coast's No. 1 pair. Shields/Sola went 6-1 as OCC's top pair, with their lone loss at the hands of Irvine Valley College freshman pair Jaclyn Sanchez/Emily Guenter after a 16-14 third set.
Midway through conference play, Shields/Sola moved to two, where they went 215-96 combined against opponents in five straight wins to end the regular season.
The second half of the regular season games also featured what could have been Shields/Sola's most entertaining game of the year. In the April 8 contest against Cypress College, the OCC pair faced off against Chargers freshmen Rachel Burney and Tainea Allen in a conference bout.
The first set was a marathon, and on one of the hottest days the Pirates had to play, Shields/Sola rallied for a 26-24 victory in the first set. It was the longest set an OCC pair had to endure in 2022.
Even with a bumped shoulder that day, Sola made some key digs on defense to salvage a win over the Chargers. OCC and Cypress played a close second set, but Coast pulled away for a 21-18 victory at Newland Courts.
At the end of the season, Shields and Sola were 23-5 in the regular season, playoffs and tournaments, a single-season and all-time record for an OCC pair.
There was little debate over what the duo considered the highlight of the year, given that the Huntington Beach natives won the CCCAA SoCal Playoff Regional Pairs Championship.
Throughout the year, Shields and Sola noted the unique advantage they shared after playing together for over 10 years, and it really showed in last season's tournaments.
"I feel like we can read each other's minds sometimes," Sola said after qualifying for regionals on April 27. "But since we're so close, we can start joking, which totally helps us play better."
Shields/Sola laughed to the bank – beating five different pairs, including freshman teammates Brisa Zapata-Reaves/Rachel Blair and eventual Santa Barbara City College state champions freshman Emma Crabbe / Kelissa Lemoine. With a win over El Camino College freshman pair Lauren McCarthy/Fayth Rascon in the tournament semifinals and a forfeit win over IVC freshmen Barett Nolan/Jolie Rasmussen in the final, Shields/Sola became the first OCC pair to headline a Regional Pairs Tournament.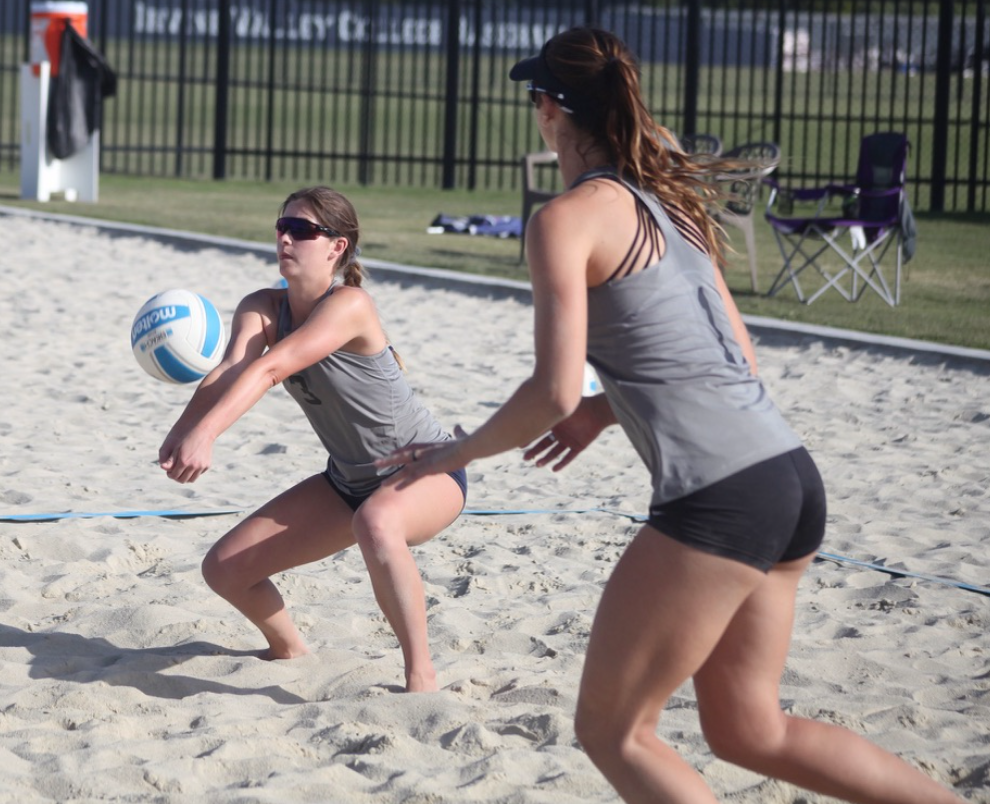 "I was really proud of Sophie for coming through this whole tournament," Shields said. "We were both very tired and they served her tirelessly. It was pretty awesome. It was probably the best I've seen her play in our relationship together, ever.
Eventually, exhaustion caught up with Shields, Sola and the rest of the Pirates on the final weekend of the season. The OCC was eliminated from the state tag team tournament by Feather River College in a 3-2 aggregate loss on May 12.
Just five days after playing four intense matches in the pairs regionals, Shields/Sola suffered a three-set loss to FRC rookie Carissa Chainey and second-year Taylor O'Reilly in the No. 2 pairing. team eliminated the Pirates duo in the State Pairs Championship on May 13.
Even with the late-season slump, the 2022 Pirates became the first OCC beach volleyball program to have an undefeated regular season, the first to win the Orange Empire Conference, and the first to make an appearance at the state championship.
"The only regret I have would have been to study Feather River a little more than we did," Shields said. "I think we got a little cocky as a whole team, talking about 'when we get to the final and play IVC…' but what we really needed to do was focus on Feather River."
After their pool win, the Golden Eagles were cut short by IVC in the state title game. It was the Lasers' first championship since the inaugural CCCAA-sanctioned beach volleyball season in 2015. The OCC finished third in the state by default.
"Overall it was a really fun season," Sola said. "It was just fun to play together one last time – if it's the last time."
Sola plans to "return to retirement", while Shields will move on to CSU Bakersfield on an athletic scholarship, where she will play Division I beach volleyball in the Big West Conference.
No matter where life takes them, Sola is assured that she and Shields will always bond over beach volleyball, even if it's in a more casual setting.
"We're going to play all this summer," Sola said. "That's always been the thing, we click together and play with our friends on the pier all the time."
"We'll probably be playing together for the rest of our lives," Shields said.