NEW LENOX — Tuesday's non-conference women's volleyball game between Plainfield Central and host Lincoln-Way Central was a battle between two even teams.
That's how Kiera King of Lincoln-Way Central likes it.
"It was a fun game," said King, who led the Knights with 14 kills to go with 13 assists, one block and 11 digs in a 24-26, 25-10, 25-21 victory. "They are a good team. I like to have games like that.
Throughout the game, when the Knights (6-2) needed a point, it was King who got the ball. And, more often than not, she let him down. She secured back-to-back wins early in the second set and then added another in a 5-1 run that gave her team a 7-4 lead that they never relinquished.
"I liked that the ball kept coming towards me," King said. "I just like hitting.
"Our environments [Mia Mattingly and Skylar Smith] did a great job tonight, and it's nice to have them there. It makes things easier for the rest of us.
Smith finished with seven kills and three blocks, while Mattingly had three kills and three blocks.
The first set was a round trip. Lincoln-Way Central took a 5-1 lead, but Plainfield Central responded with a 5-0 run that included pocket aces by Alyx Tubbs, to take a 6-5 lead. After that, neither team was leading by more than three points until Lincoln-Way Central took a 23-19 lead on a Smith kill. Plainfield Central responded with three straight runs before a Wildcats misfire gave the Knights a 24-22 lead and serve.
Plainfield Central's Layla Collins took over, recording a kill, consecutive blocks and another kill to give the Wildcats the 26-24 victory.
Collins, Tubbs and Abby Kearney had five kills apiece to lead Plainfield Central (2-4), while Tubbs had three aces. Kinsey Bakhaus had a team-high 10 assists and Reese Boekeloo added nine. Collins had a team-high five blocks, while Bahkaus had 15 digs and Tubbs added 13.
Lincoln-Way Central pulled out midway through the second set, as Alyssa Teske (5 kills, 3 aces, 18 assists) had an eight-point serving streak that included a pair of aces to carry the score at 18-7. The Knights then got kills from Mattingly and King and two from Abigail Burton down the stretch for the win that forced the third set.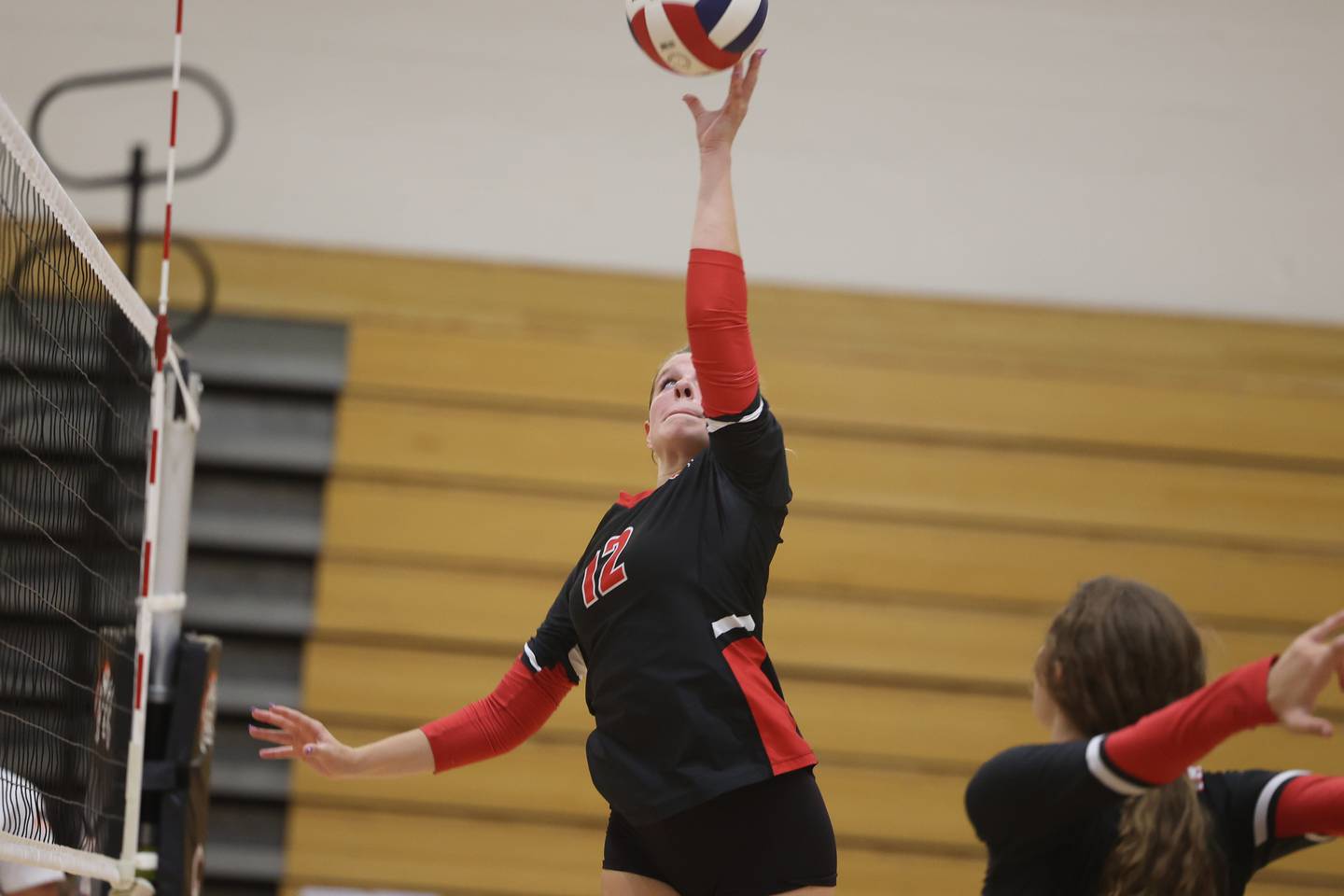 Plainfield Central held the advantage early in the deciding set, leading 13-10 after a Tubbs kill. Lincoln-Way Central, however, followed with a 7-1 push, aided by a four-point serve executed by Kylie McCarthy that included an ace. King had three kills in the run and added two more in stride. Plainfield Central shot within 21-20 on a Bakhaus kill, but Lincoln-Way Central got two kills from Teske to make it 24-21, and the final point came on a strike error of the Wildcats.
"Plainfield Central was super scrappy," Lincoln-Way Central coach Mary Brown said. "Our installers [King and Teske] are not only good passers, but they are very aggressive offensive weapons. Kylie McCarthy is a very energetic defensive player who does a good job of serving.
"We played a pretty good schedule and beat some good teams."
Plainfield Central coach Bob Richardson was also pleased with his team's play.
"It was a fun game," he said. "It would have been more fun if we won, but it was still a fun game. We're pretty well balanced and we're a scrappy team. These girls don't give up, no matter the score. They don't put themselves down and it's nice to see that mental toughness.
"We have a lot of depth, but we're still looking to finalize rotations, trying to see who fits in well with whom on the pitch."