VILLA PARK — Kamryn Lee-Caracci blocked a Willowbrook girl at net, then waved two fingers in a clear alpha move.
Lee-Caracci is that of the canton of Lyons.
The 6-foot senior, a Georgetown rookie, was a key figure last season in the Lions' 32-game winning season, an honorable mention All-State pick. Now, with stars Tia Kostic and Adriana Vassek graduating, Lee-Caracci is clearly the center of attention at Lyon. And wants to be the girl Leos rely on.
[ Photos: Lyons vs. Willowbrook volleyball ]
"It's two heavy losses, but even though we have a lot of comebacks, we have a lot of girls who were in the second year before," said Lee-Caracci. "The only thing they really need is someone to lead them, someone they can rely on, which is the position I want to be in. I don't want to be just a throwaway player. I want to be someone people can count on to lead.
Lee-Caracci led the way at the most critical moment on Wednesday.
After Willowbrook came alive in a big way to win the second set, Lee-Caracci took charge in the third. She had three kills and the big block for the Lions' first four points, and Lyons earned a 25-20, 12-25, 25-21 win in a game between last year's respective division champions. of the West Suburban Conference. .
"That's what top management is," said Lyon coach Jill Bober. "It's not just about getting those points and getting the kills, it's also about directing the people around you, arguing with those people and moving that energy forward."
After a less than satisfying second set by his standards, Lee-Caracci was an imposing presence in the third – both at net and on the service line. She had seven kills, three aces and a block in the set, accounting for nearly half of Lyons' points. Lee-Caracci's huge win was followed by back-to-back aces to put Lyon 24-19 up in third.
"I think I learned a lot in that second set," Lee-Caracci said. "I had a really bad passing game and it went to my head. I learned that I could do better. If I can't make a perfect pass, I can hit better and perform for my team.
Lee-Caracci was excited for this one.
Lyons (5-0) and Willowbrook (3-1) were the crème de la crème of the West Suburban Conference last season, but didn't face each other. Lee-Caracci, however, followed Willowbrook's historic path to his first section title and went to the Warriors' supersection game at Mother McAuley. She was also a club teammate with Willowbrook star Calli Kenny for three years. There is respect and friendship. The girls posed for photos together after the game.
"I was so excited," Lee-Caracci said. "I know Calli Kenny and I know her sister Hannah is a strong player. I like to play against people I know because it makes me want to perform better.
Lyon's 6ft 3in midfielder Katie Debs, who killed for match point, also had a quick set to start a 7-1 run that gave Lyon the lead for good in the third set at 15-9. Earlier, Debs had three kills and two blocks to knock the Lions out in a tight first set they pulled away with a 6-1 run to tie at 18-18.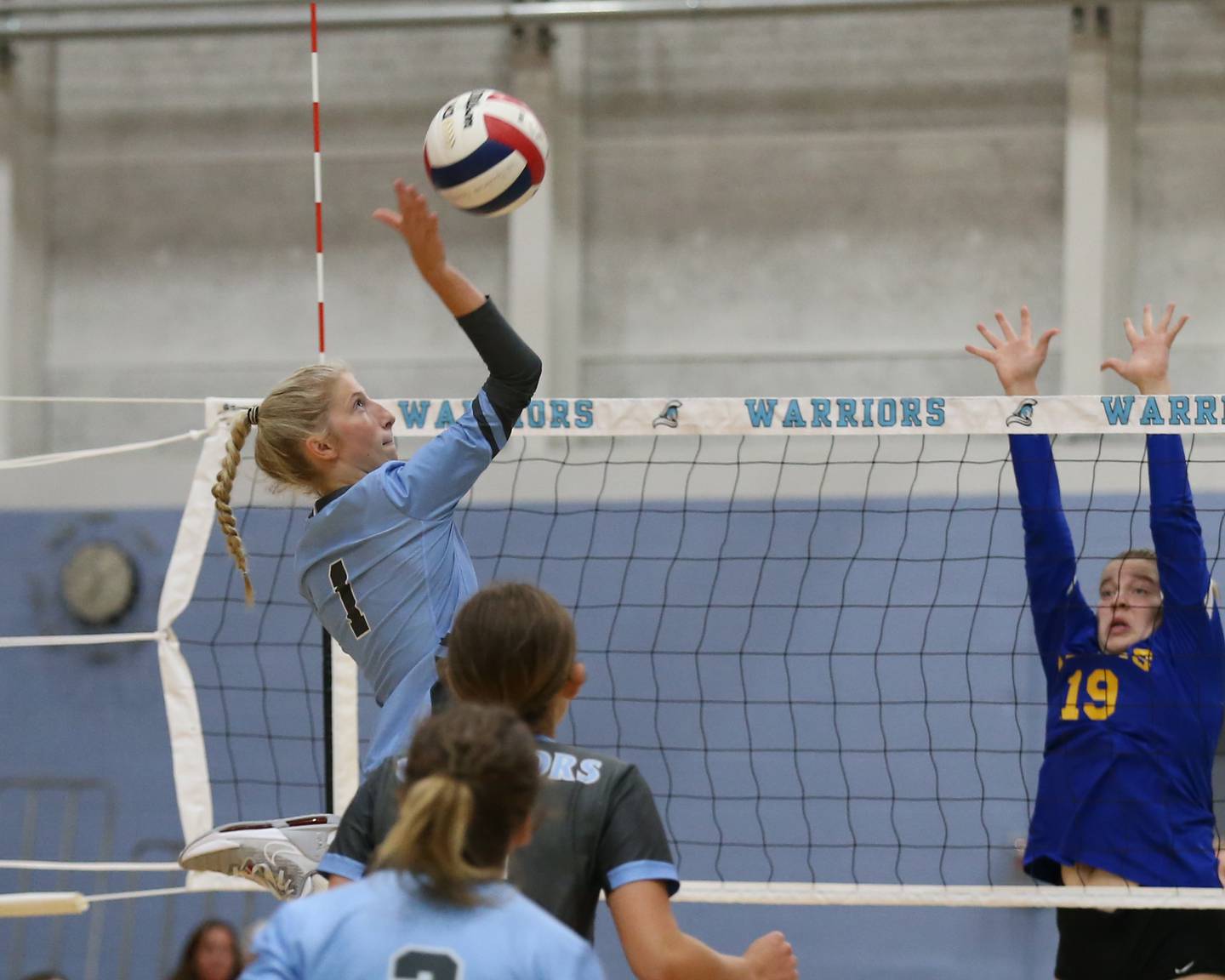 Willowbrook rebounded in second. The Calli Kenny kill started a 10-0 run which she finished with back-to-back aces for a 15-7 Warriors lead. Elle Bruschuk also had two kills during that streak where the Warriors looked more like the team that won its first 30 games last season.
"The first set as a whole we came out a little shy and I feel like as a team we played a little scared – they have a 6ft 4in midfielder, a commitment to Georgetown "said Kenny. "For some of us, it was a bit scary. As the match progressed, we felt comfortable in our skills and that was what changed sets two and three.
Calli Kenny finished with 10 kills, 13 assists, 17 digs and three aces, Hannah Kenny 10 kills, 13 assists and 14 digs, and Bruschuk three kills, three blocks and two digs. Natalie Cipriano added three kills and six digs.
"It seemed like we weren't as confident as I'm used to," Willowbrook coach Irene Mason said. "Once we settled in, we played our game, the level we should be at. It showed us what we need to work on.
Kenny, like Lee-Caracci was thrilled to play against girls she knows well from the club but only remotely in a high school setting. She last played for Lyon in her first year.
"I know a lot of the girls on the LT team, our high school coaches, club coaches, everyone we know," Kenny said. "I think that gives us fuel for the rest of the season. We know we can compete with the best teams in the state. Even if we lost, it gives us confidence.